Superscope Widescreen Process (1954)
What you may not know is that the very first Superscope product wasn't a tape recorder. It was a trademarked process for producing wide screen motion picture prints more cost-effectively than the competing Cinemascope process.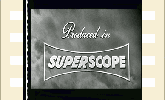 As conceived and designed by the Tushinsky brothers, the "Superscope" wide screen process had its brief heyday from 1954, when Superscope Inc. was incorporated, to 1957. It was first used on the film Vera Cruz starring Gary Cooper and Burt Lancaster. Howard Hughes' RKO Pictures used the Superscope process on a total of nine films, including Invasion of the Bodysnatchers. Disney successfully reissued Fantasia in Superscope in the mid-fifties.
Superscope and Sony (1957)
In 1957, Superscope's founders, Joseph, Irving, Nathan, and Fred Tushinsky were visiting Japan when they met with the executives of a Japanese electronics company named Sony. The Tushinsky's discovered that Sony had stereo tape recorders, the world's first with built-in amplifiers. Soon realizing the potential for the tape recorders for the U.S. market, the Tushinsky's within months contracted for exclusive rights to distribute them in the United States. The Tushinsky's understanding of the needs of the American marketplace, combined with Sony's design and manufacturing expertise, propelled both companies to prominence.
During the 1960's Sony released a variety of Sony/Superscope branded reel-to-reel and cassette tape recorders. Superscope continued to market and distribute Sony tape recorders exclusively in the United States until January 1, 1975, when Sony acquired back distribution rights to its line of tape recorders from Superscope. By 1973 Superscope was producing its own line of professional portable cassette recorders for the worldwide market.
Superscope Inc. Acquires Marantz (1964)
In 1964, Superscope Inc. acquired a small but prestigious hi-fi company from Saul Marantz. From this acquisition Superscope developed and marketed Marantz high-fidelity audio products, such as stereo amplifiers, receivers, and record players worldwide
Growth of Superscope Audio Products (1970s)
In 1975,Superscope's product line included eight portable tape recorders, six portable cassette radio products, seven Hi-Fi receivers, two tuners, three amplifiers, five stereo tape decks, six speaker models, five compact music systems and eight microphones.
Peak Years of Superscope, Inc.
Superscope Inc. reached its apex in the mid 1970s. In 1976, the company operated worldwide facilities totaling 1.25 million square feet in four countries. It grew internationally by establishing international distribution subsidiaries in France, Germany, the UK and merging its Japanese distribution subsidiaries into Marantz Sales Company. Superscope Inc. completed the construction of a massive headquarters building in Chatsworth, Calif., spanning 13 1/2 acres. It consolidated its corporate offices, warehousing, and North American manufacturing in this one facility.
The manufacturing plant, employing hundreds of workers, produced Marantz amplifiers, Superscope stereo music systems, and Superscope speakers. The company initiated rigorous quality control procedures, invested in then state-of-the-art computer data and phone systems, focused on logistics efficiencies, and vertically integrated its marketing and publicity.
​
During this era, Superscope pursued a strategy of marketing Marantz as a premiere brand of quality consumer audio products, and Superscope consumer audio products as its budget line "made by Marantz." Naturally enough, the two brands became intertwined in consumers' minds. Superscope also manufactured Imperial speakers.
The Superscope Pianocorder Reproducing System was launched in the late 1970's. It was also available factory-installed in the Marantz Reproducing Piano. The Pianocorder system provided a modern alternative to traditional player-piano rolls. It used ordinary cassette tape as a storage medium and played the piano directly from commands stored on the cassette tape.
​
Superscope created a fairly extensive library of material for the Pianocorder system, available on over 30 ten-cassette volumes. A large portion of these recordings were made by converting reproducing piano rolls to Pianocorder format. Several famous pianists, including Liberace, George Shearing, and Oscar Peterson, produced recordings directly on Superscope's Bosendorfer concert grand piano.
​
In 1987, the Pianocorder Division was acquired by Yamaha. Yamaha developed its own competing system and discontinued sales of the digital cassette-driven player piano one month later.
Superscope also developed the popular Superscope Story Tellers / Tele-Story books. These books came with an audiocassette tape of music and narration. A wide variety of titles were published in the 1970s and 1980s.
By the 1980s, with competition fierce in the consumer audio marketplace, this industry giant sold off many of its assets, including its giant Chatsworth facility, which it then leased back for a time. The company then changed its name from Superscope Inc. to the Marantz Company. In 1987, Joseph Tushinsky retired as chairman when the Marantz Company was purchased by Dynascan Corporation (today's Cobra Electronics Corp).
​
By 1990, Cobra had sold the Marantz brand to Philips Electronics. In the process, Philips negotiated an agreement so that Cobra continued to market Marantz Professional products in the Americas.
Superscope Technologies Inc. (1993)
Shortly thereafter Superscope grew the Marantz Pro business into a successful, full line supplier of professional audio recording/playback products, serving many of the key professional audio markets, including broadcast, business, government, education, and music.
​
The Marantz Pro business was sold to Marantz Japan, Inc. in 2002 and later was combined with the Denon Pro business to form D&M Professional located in Itasca, IL.
​
Superscope also developed and marketed innovative music recording and music practice products under the Superscope brand, and has become a leading brand supporting music education and performance.
Superscope products, such as the PSD230 and PSD340, became very popular with K-12 schools, Colleges and Universities, as well as with students and professional musicians alike.
In 2014, Superscope introduced the PSD450mkII, Superscope's most advanced and easy-to-use portable digital audio recorder to date. The mkII can be found in recording applications in music, business, government, education, and wherever high-quality audio recording is required.
For more than six decades, the Superscope brand has served the Music Industry and Pro AV markets throughout the world; and to continue serving these markets and customers for future decades, we are very pleased to announce the formation of Superscope LLC effective July 1, 2015.
​
Effective July 1st Superscope's business will include a line of professional digital audio recorders, serving the music, government, education, and business markets; and Elevation, an easy-to-use Music Recording and Music Practice software program ideal for music educators and musicians.
​
In addition, Superscope will continue to offer Pro AV equipment service and repair for many well-known industry brands, including Marantz Pro and Consumer, Denon Pro and Consumer, Eiki, Runco, Tascam and Teac.
​
We are very excited about the future direction of Superscope, and for the Superscope brand to continue its long and noteworthy history.
Superscope LLC (2016-2021)
Audio recording of meeting and conferences, and events such as music performances, has been a constant in the professional world for decades. Regardless of the purpose of these recordings, everyone benefits from a reliable, accurate, clear recording that is easily referenced, distributed, and transcribed.
​
Enter the Superscope PMR61. A brand synonymous with professional audio recording, Superscope has created professional audio devices for more than five decades. The PMR61 is the next generation, and possibly the world's smartest digital audio recorder.
​
Sales of Superscope's PMR61 grew to firmly establish Superscope in several mission critical markets that depend on recorded audio and digital archives every day. PMR61 is respected and recognized as the audio recording equipment solution for the world's leading Rental Staging Conference Service Providers and enjoys a gold standard reputation by federal, state and local government agencies that capture literally hundreds of thousands of hearings and meetings conducted across the U.S. every year.
Headquartered in Geneva, Illinois, Superscope develops and markets professional Audio products serving the Business, Government, Education, and Music markets throughout the world. For more information, please visit www.superscopetechnologies.com.